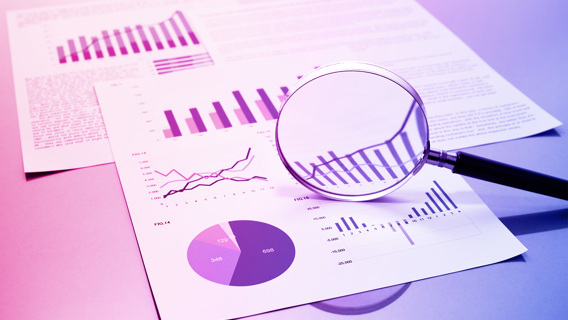 News & Insights
Praemium's new reports provide greater insight for clients
Reporting is an area that has long been regarded as Praemium's key strength. The accuracy, depth and breadth of our reporting suite puts us way ahead of most of our competitors and it's about to get even better.
We have just released a new suite of innovative investment portfolio reports and tools that will provide opportunities for better adviser-client engagement and further enhance our leading position. And some of these recent upgrades to our reporting functionality, we believe will increase the gap between us and our competitors even further.
Breadth of reporting
Out of the box, Praemium already provides over 40 reports across performance, valuation, taxation and transaction categories, and the list is getting longer all the time.
Take asset class reporting for example. Some platforms give you an asset allocation report. In the last couple of months, we have extended the number of asset class allocation reports to six, so you can always find a configuration to suit your clients' needs.
And the number of SMA-specific report options continues to grow with the recent release of the Portfolio Valuation by Model and the imminent release of Performance by Model reports, making it now much easier to report on model performance.
Client-focused
The devil may be in the detail, but today's investors also value simplicity. New reports like our Infographic and Investment Summary reports are leading the way in providing a client-focused, easy-to-consume summary of your client's current investment position.
Accurate and scalable
At Praemium, we generate hundreds of thousands of investor reports every year. And each and every report must be accurate. To maintain data integrity, they all need to pass stringent data validation checks. We found these checks so useful we gave them to you. When your reputation depends on the accuracy of your reporting, it makes sense to find easy, scalable solutions. So why not run your client report packs through the same data validation checks that we use? 
Fast and convenient
Remember postage stamps? From Adviser Portal, you can now upload and share reports to your investors with a single click. It's easy, instant and always available, so your clients can access your reports, anywhere and at any time.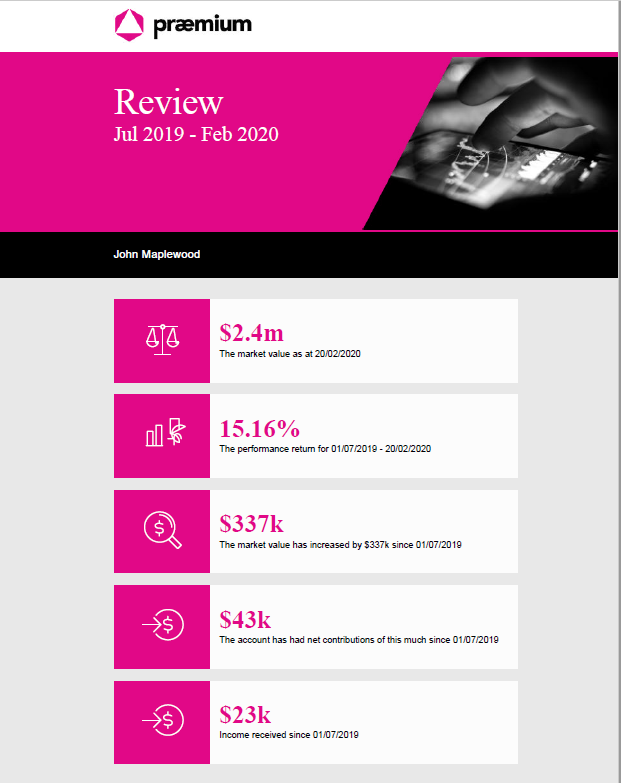 Powering up your managed account reporting
Microsoft's Power BI allows you to transform your Praemium data into easy-to-make visualisations that you can use to analyse results and share them with your colleagues. By unlocking the power of your own data, you can give your key decision-makers the information they need to do their jobs.
And it is really quick for someone with little or no technical experience to start by simply downloading the Power BI template and your SMA data from Praemium's Export Centre.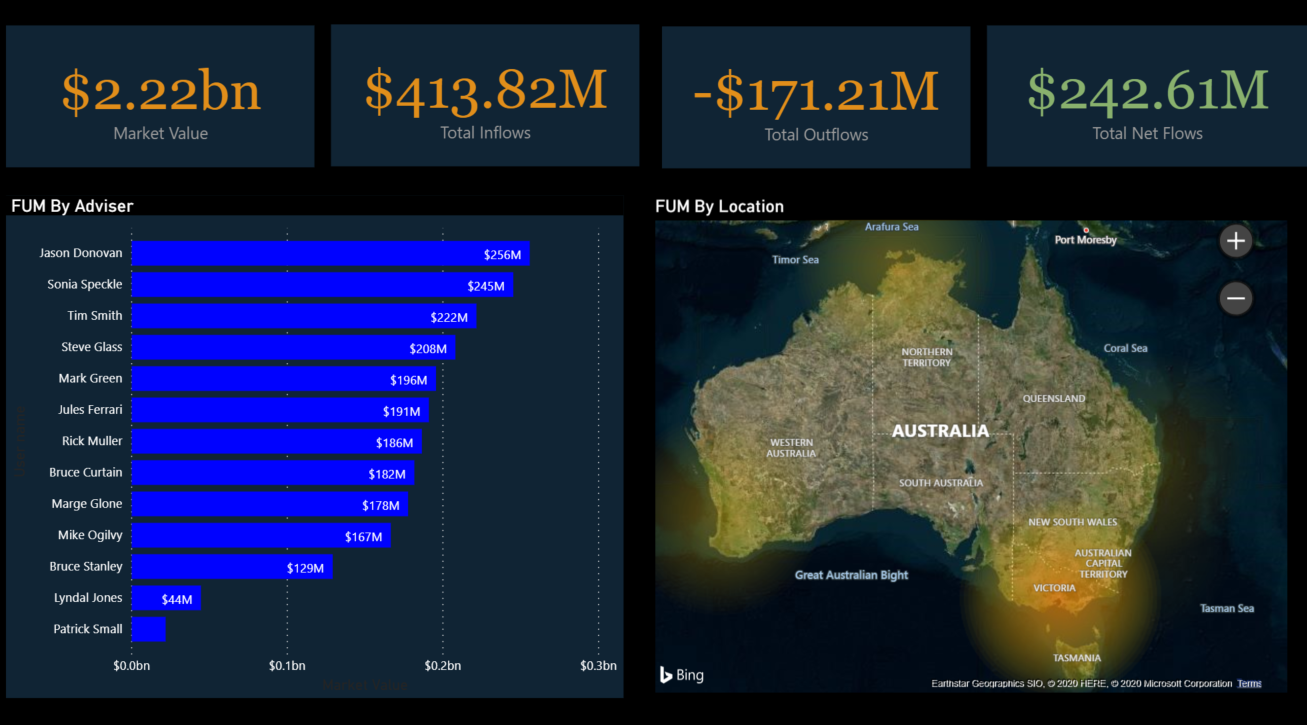 Bespoke and build your own
If you can't find what you need in our out-of-the-box reporting suite, why not build your own? Praemium's extensive new Report Data Library gives you the power to generate custom reports, combining your own words and branding with a huge range of facts and figures extracted directly from your client portfolio database. Simply click and copy the fields from the library into your own documents, then upload, generate and share.
Of course at Praemium, we believe your portfolio data is truly yours. Which is why we have built a new API Developer Hub and added to the already extensive range of APIs you can use to pull data into your own applications. Or maybe you want to select from the Export Centre's rapidly growing collection of exports so you can download data from all your accounts into a spreadsheet.
The latest release of reports meets the needs of our advisers, who are looking to be able to provide their clients with the option of a consolidated picture of their wealth and greater insights at the model level. For those investors looking for a quick visual snapshot, there are concise and simple reports, alternatively, for those investors looking for a detailed deep dive into their portfolio, there are more sophisticated reports. Whatever the information needs of the client, advisers can create a tailored report for each individual client with Praemium's market-leading reports.