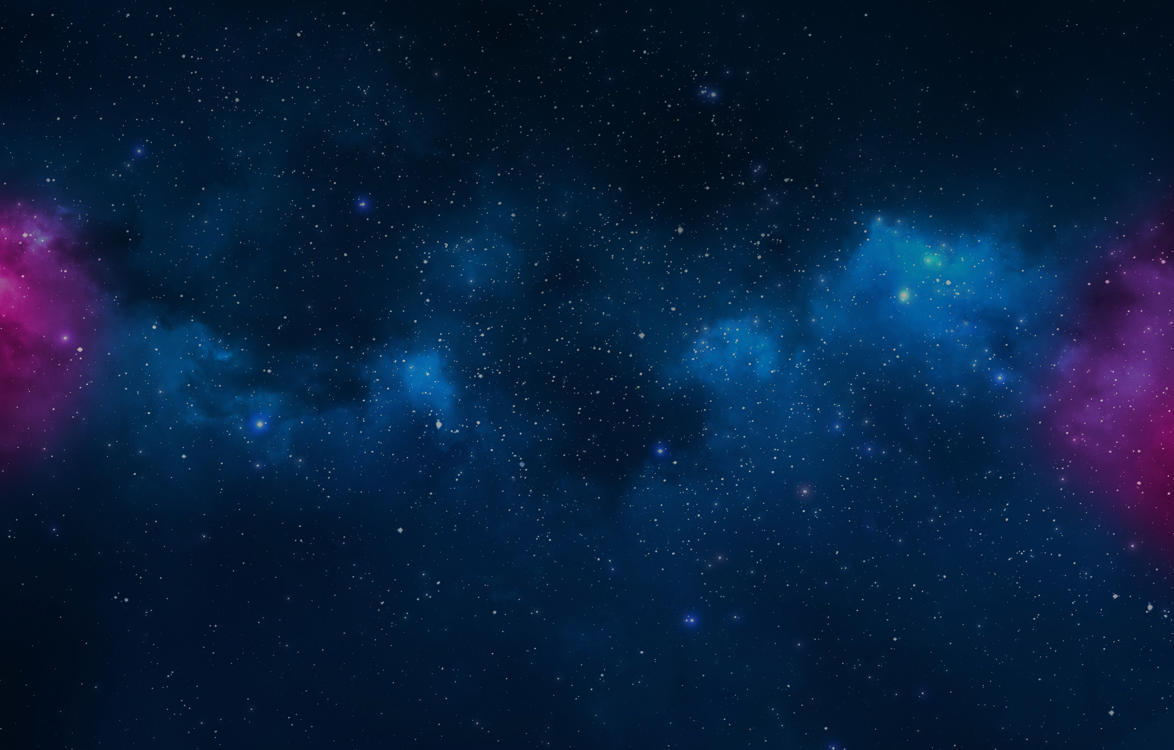 Non-custody solutions
Creating a complete portfolio solution
One platform. For every asset. For every client. For every advice business.
When offering a holistic wealth management experience to your clients, you need to be able to create a portfolio for different client segments that cater to the divergence of assets needed to meet their unique investment profiles.
For many advisers, this means using multiple platforms and software solutions to achieve this. Recent research shows that 59% of advisers are administering over 20% of client assets off-platform. The assets most commonly invested off-platform include; term deposits, ASX-listed shares, ETFs, Direct and Commercial property, Wholesale and Retail Managed funds and Private Equity holdings.
With Praemium you can do it all. Praemium's Virtual Managed Account (VMA) is a non-custodial account through which you can administer your clients' investment or SMSF portfolios. With access to all ASX-listed securities, more than 4000 international securities, bonds, managed funds, unlisted investments, CMA and Term Deposits plus your choice of external execution and custody, you have the ultimate flexibility to support the variety of tailored advice strategies you develop to cater to your entire client base. 
Non-custodial solutions with your choice of execution and custody
Market-leading reporting with benchmarking functionality
Our VMA non-custodial account can administer a broad investment asset universe with comprehensive institutional grade investment, corporate actions and tax reporting. Our performance benchmarking functionality allows you to select the most appropriate benchmark for your clients' investment goals, including goals-based, absolute returns, composite and custom options. 
Cost-effective for all 
Competitive non-custodial account-based pricing affords you full control over your client pricing and billing method.
Extensive data feeds
With a comprehensive range of data and market indices feeds to our integrated Managed Account Platform you can create a single information source on the one platform.
Outsourced administration
Praemium's VMA Administration and SMSF Services enable you to further increase efficiency and unburden your practice from time-consuming administration with the option to move to a fully outsourced business model. 
One integrated platform
Praemium's platform covers both non-custody and custody options providing greater flexibility to offer a differentiated service proposition across all client segments.

From gold to Gauguin, SMAs to MDAs, shares to managed funds.

Whether you want to outsource your investment selection to a model portfolio or create bespoke portfolios from a range of individual assets, you can do it all on the Praemium platform. And, with our market-leading data feeds, you can see all of your clients' non-custody assets on a single platform, from property and collectibles to term deposits and direct equities.
There's no need to manage assets on a spreadsheet or multiple software, now you can have a holistic view of your client's entire portfolio.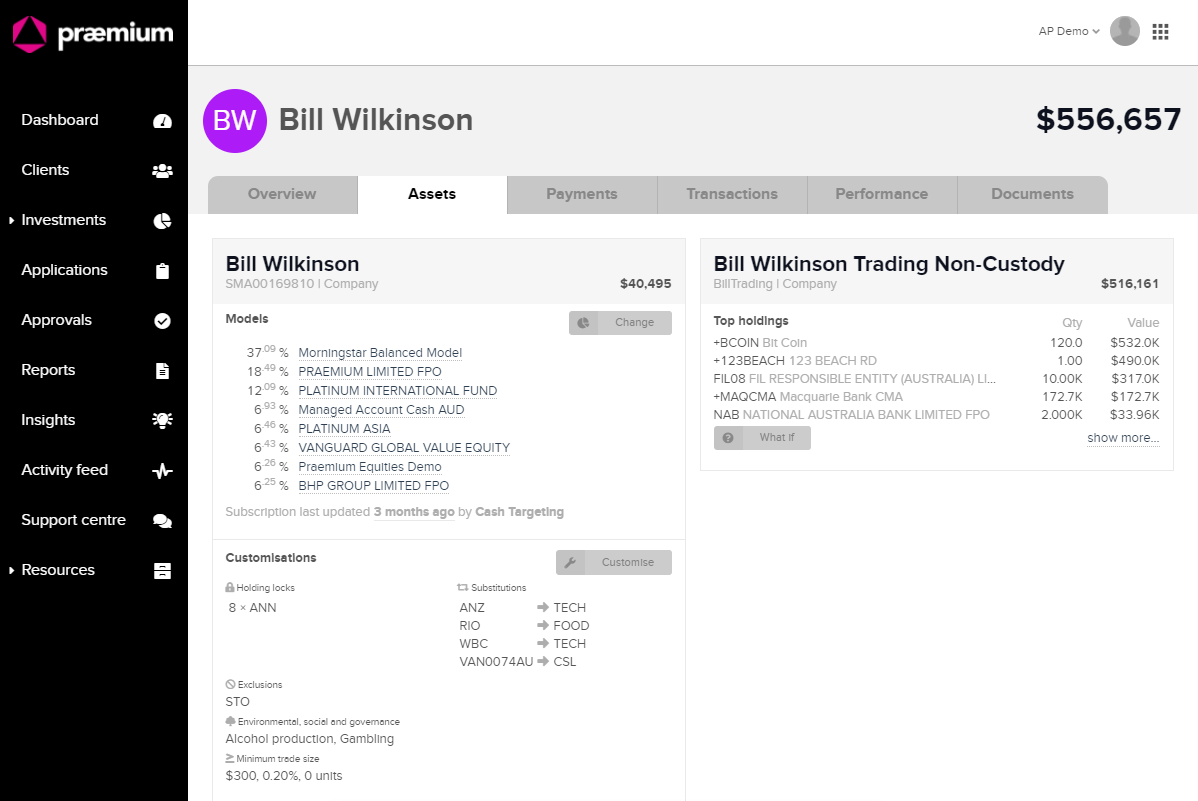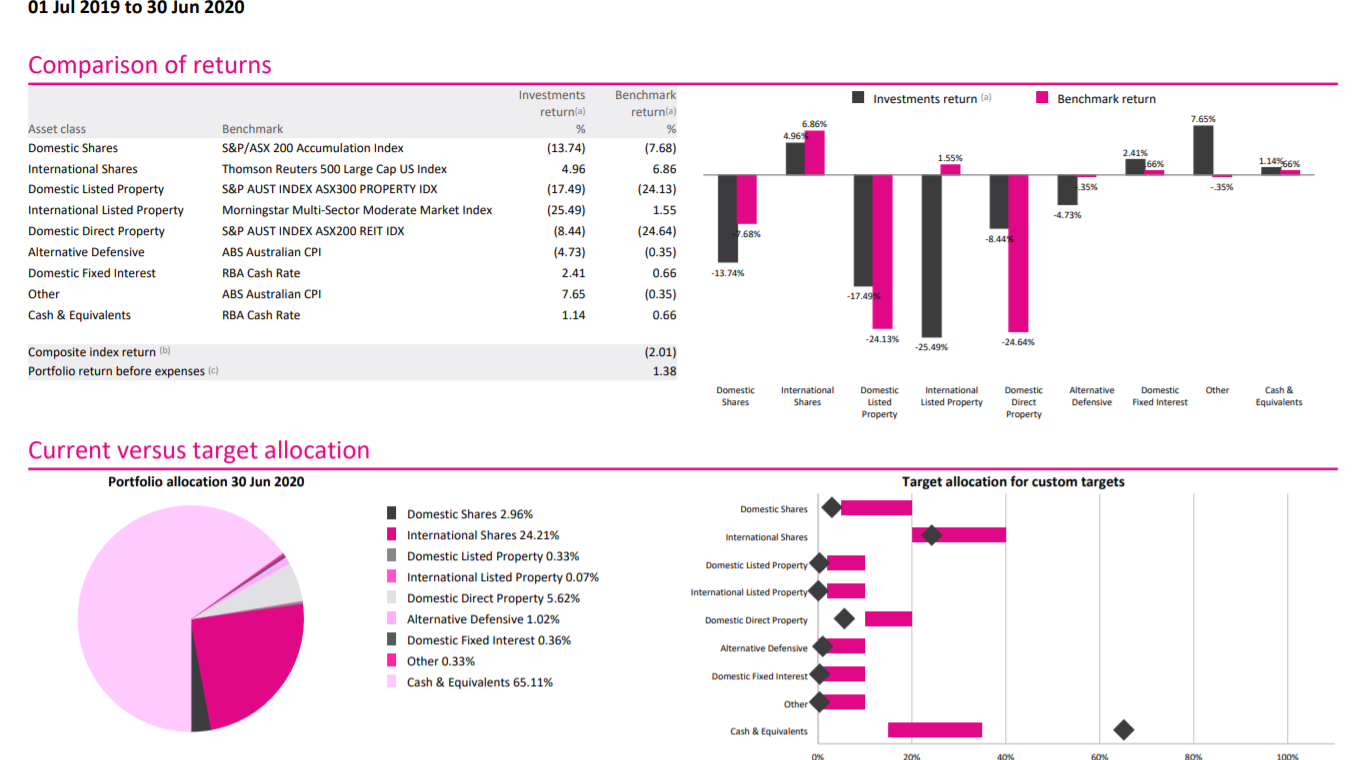 From corporate actions and tax reports to fully outsourced administration.
Our sophisticated corporate actions management and accurate, customisable reporting is widely regarded as the best in the industry. Our research shows that reporting of non-custodial assets is extra time consuming, so get that time back and outsource the administration to us!
Imagine your clients' investment mail processed, files, reports and documents all reconciled and sorted by client without lifting a finger. 
From small to high net worth clients
Whatever your client base looks like; Mum and Dad investors with a small nest egg or high net worth investors with complex portfolios we can help you manage all of your client segments from a single platform. 
Praemium can help you create tailored solutions for any portfolio size. You can then see all your clients in one place, with valuable client insights at your fingertips.
Bridging the platform gap
Read the latest research
Praemium in conjunction with Investment Trends has undertaken research to determine how advisers are managing their clients' assets.
Find out about:
How advisers are managing platform (custodial) and off-platform (non-custodial) assets
The 'platform gap' and the time impact this is having on advice firms
Adviser aspirations for platform solutions
Perceived barriers for platform usage in meeting all client requirements.
What platforms need to deliver for advisers to use them for 100% of their clients' wealth.
SEND ME MY COPY