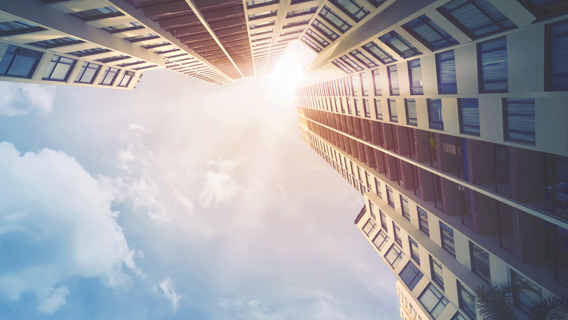 News & Insights
More than bricks and mortar: commercial real estate in a post-COVID world
Investment Leaders Podcast
In our latest interview for the Praemium Investment Leaders Series podcast, Praemium's Damian Cilmi, Head of Investment Managers and Governance, interviewed Miriam Patterson, Head of Office Partnerships at Charter Hall, to bring you investment insights about the commercial property market. 
The below is an excerpt from the interview.  Listen to the full podcast interview with Charter Hall for their views on ESG strategies, the outlook for commercial property returns and how they are positioning their portfolios against this backdrop using the player above. 

Damian Cilmi: It's great having you here and a great topic. It's always something that everyone's talking about, what's happening to the office, and you've got some great insights.  Before we get into the market specifics, can you set the scene of what's happening to the office in a post-COVID world? What are attendance trends like? What are you seeing out there about attendances with the office and the attitude to office?
Miriam Patterson: From a tenant perspective, we're certainly seeing a flight to experience and a flight to quality. Numbers are starting to trend upwards, which is a good sign. We know at the end of the day employees are now facing a return-to-work decision, and so employees have the choice now that they're working flexibly: do they either stay at home or do they come into the office? Employers need to really weigh into that decision by trying to create attractive and vibrant places for their employees to come in. So that it is their first choice, not their last choice.
Damian Cilmi: And have you got any specifics on numbers in terms of average attendances?
Miriam Patterson: It varies within the week. So, Monday and Fridays are the quietest days and then, trending up between Tuesday and Thursday as probably the higher occupancy days. We're certainly seeing anecdotally that, it's hard to get a seat on the train and in the morning the traffic is more congested and the like, so they're all good signs. Foot traffic across the city of Melbourne on weekends is now above pre-COVID levels, which is great. We need to see the midweek footfall also getting up there, so it's around 80%, which is really positive. 
Across Australia, we're seeing that the occupancy ranges from 40 to 50% in Melbourne and Sydney ranging to 60 to 70% across some of the areas like Queensland, Brisbane and Perth have not been impacted as much by the lockdowns. But importantly the trend is up. And so, again, it is about some of these large employers making active decisions around creating reasons for people to come back to the office.
Damian Cilmi: Have you seen any specific ideas that either landlords and or employees have done to encourage people back into the office?
Miriam Patterson: At Charter Hall, we really love precincts, and we love partnering with our tenants to create active and vibrant places that our tenants want to be in, because we want to be the landlord of choice. So by this we mean we want to create the right spaces that have the amenity and experiences that people want to use.  And this can consist of things like Monday morning breakfasts initiatives such as International Women's Day.  We recently started holding community events in the precinct, such as Melbourne Fashion Week. And so offices are not just places for people to turn up and go to work.  They're places for people to gather, to connect, to foster new ideas and to collaborate.  And so, it really needs to be more than just the bricks and mortar.
Damian Cilmi: So let's change tact a little now and we'll talk about ESG and how it impacts commercial real estate.  So there's probably two elements to that I'd like to find out about here is, what are the tenants demanding from your ESG credentials?  And then also you've got investors as well.  And so what are you doing as a business to promote your ESG credentials for your buildings?
Miriam Patterson: ESG influences everything we do.  It influences our ability to raise capital, it influences our ability, and it directs our ability to manage our assets, our buildings.  And it also influences our ability to attract tenants and retain them.  If we can make our buildings more sustainable, it can, effectively mean reduced operating costs for the tenants.  And that can be through savings in water, savings in waste, and savings in energy.  And that is something we're really focused on doing.  It can also mean healthier indoor air environments, which is a focus post-COVID.  From an investor's perspective, investors seek to own high quality sustainable buildings because it attracts higher quality tenants.  And these high-quality tenants with their corporate ESG objectives typically have larger balance sheets and again, greater ability to pay the rent, and that translates into higher occupancy and then a greater line of sight to income.  So again, that's great, that's what an investor's after.  Focusing on sustainability and climate change is going to lower risk from an investment portfolio perspective.
Damian Cilmi: You're in the market for providing space for workers, so employment forecasts are very important. We've got fears of a recession coming through, what's your forecast for demand for office space, based on employment forecasts?
Miriam Patterson: With the border reopening and as the government moves to incentives for skilled migrants to lift the caps around migration, I think we can expect some of this growth to come back.  And then that is likely to translate into increased demand for office space.  I've got some forecasts here from major economic houses.  And that estimates that employment counts in white collar employment could increase by 582,000 over the next five years.  And so that's close to 120 new workers in a year for the industry.  So, this could mean about 2.9 million square meters of office space over the next five years.
In this short video excerpt from our podcast, Miriam Patterson, Head of Office Partnerships at Charter Hall, runs Damian through how commercial real estate might fair in the event of a recession in Australia and the impact of bond yields on pricing.